MEDICAL BILLING FOR GENERAL SURGERY
Medical Billing for General Surgery is the simplest process than other specialties - it needs to be well-versed with medical codes and terminologies used for the medical procedures. Besides being knowledgeable about the process from hernia repair to heart surgery, billing staff needs to expertise in understanding the different job roles carried out in a medical procedure. Any minor mistake can cause compliance issues or may lead a loss in claim submission. Eventually you will end up losing money and time in the errors making a business loss. If you do not want to deal with hiring and training a billing specialist, you may elect to outsource billing services to an agency such as Medeye LLC.
Medeye LLC are responsible for billing insurance providers and patients, as well as in the revenue cycle management process. This way, you can save valuable time you had otherwise spend on your patients while also providing the topmost level of data security.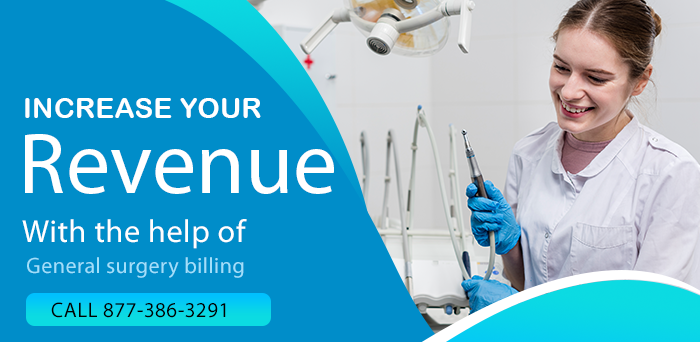 How Much Does General Surgery Billing Service Cost?
Having your billing outsourced can actually increase net revenue. Just be sure that the company you hire understands all facets about healthcare billing and coding. With Medeye LLC, you can be assured that the specialist working for you has ample experience in claim follow-up to maintain while getting you every dollar you deserve! To learn more about our fee structure and what Medeye has to offer you, call 877-386-3291 ext. 1 or get started today!
We provide quality surgery specific medical billing & coding services to providers all across the US. We may sound boasting, but our growing list of clientele and 100% claims follow-up retains our clients.
Value Delivery to General Surgery Physicians
General Surgery is a vast field for a healthcare industry which covers multiple sub - specialties which at times become very challenging. We have an ideal fusion for our expertise in knowledge and technology that has been instrumental in efficient discharge of medical reimbursement services for general surgery.General Surgery covers a wide range of procedures which fall under similar categories - where billing begins before and after each procedure. Provider payments are usually determined by these categories, so it is important that all information is entered correctly by the billing staff.