MEDICAL BILLING FOR PODIATRY
Detailed diagnosis, as well as, treatment of human feet and ankles is known as Podiatry. Podiatrists are concerned about different conditions associated with the foot such as plantar fasciitis, foot/ankle injuries, fallen arches, toenails, and heel spurs. Any type of podiatry service needs to be billed either to the insurance company or to the patient or both. This makes podiatry healthcare billing a critical practice in the medical field.
As far as physician billing for podiatry services is concerned, we can collect money and funds efficiently from all the payers that are supposed to pay for the services offered by your business. We make sure that you get money for all the services that have been provided by you.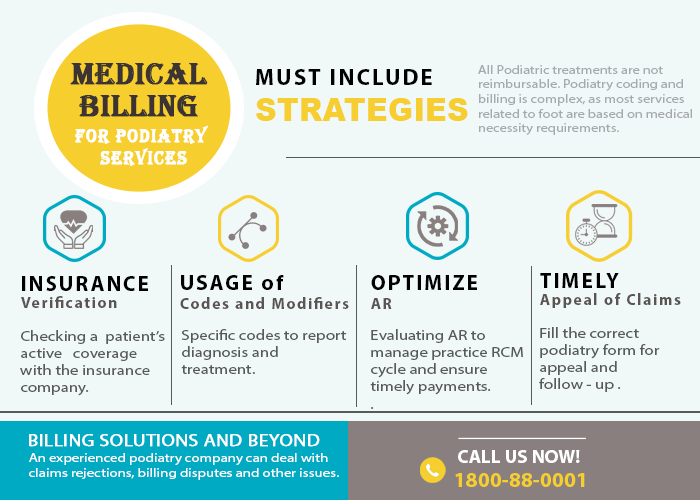 Healthcare Billing for podiatry with Medeye!
When it comes to billing and coding, you need to ensure that you understand all the procedures, rules, regulations, and guidelines as laid by the government. This is because, with all the regular changes and updates made by the government, the understanding of the procedures, rules, and regulations become more complex.
Our exclusive Podiatry Billing Services Guidelines:
After proper diagnosis, we submit claims. All the services covered by the payer will be reimbursed. Outsourcing your podiatry services to us is a great decision as we manage your claim processes smoothly while ensuring a reduction in claim denials. Not only this but we also follow proper coding procedures. It is imperative to understand that coding will not change from patient to patient. It remains constant and as a third-party service provider, we need to have complete knowledge of the same.
What makes us exclusive for your podiatry billing needs?
The major benefits of choosing our team are that we are fully compliant with the government policy and HIPAA requirements. Regular QA checks are required to generate periodical reports. All the report preparations are taken care of by our expert team. You need not sign any long-term or yearly contracts with us. We can work for you anytime! Also, we provide a personalized touch to all your podiatry billing needs.