MEDICAL BILLING SERVICES IN Kansas
Medical billing services in Kansas is well understood by Medeye with 15 years of experience in billing and coding solutions. We bring you the best combination of technology and processes with complete transparency into your billing cycle from the start. In addition to deep expertise in healthcare solutions for Kansas, Medeye LLC extends its services to major states in the US like medical billing services in Kentucky and Louisiana. They are recently added to our operational activities to strengthen physician billing solutions across the healthcare sector.
Get Fully Equipped with Revenue Cycle Management Solutions
Our goal is to maximize your practice reimbursement with fewer denials & rejected claims, less write offs and detailed follow up on all the claims which are not paid.
We welcome you with the opportunity to earn your trust by delivering the best RC service in the industry. Not only do we provide the best in service but we also use the best software to get you the results profiting your business. Power your business with medical billing for general practice which is our top most speciality in Kansas. Apart from that we have experiences with:
Chiropractic
Pediatric
Mental Health
Internal Medicine
Pain Management
Orthopedic
General Practice
OB/GYN
Partner with Medeye LLC - simplifying your Billing and Coding Solutions
Medeye LLC focuses solely on the challenges of physician care, private practices and healthcare organizations. With over 15 years of experience in providing solutions to the healthcare domain, you can trust experts at Medeye LLC to accurately manage even your most complex billing cycle from start to finish.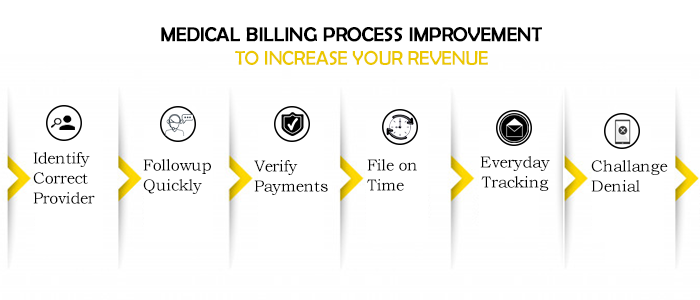 Benefits you can expect:
Lower claim denial and rejection rates with a complete, precise and streamlined billing process.
Complete reliability on our AAPC- and Medicare-certified team with deep knowledge of the healthcare industry following best practices and changing regulations.
Give your patients one-on- one support that responds quickly to their inquiries and answers all of their questions effectively.
Minimize business disruption with our flexible operations that work easily and securely with our insurance verification and authorization software solutions.
On an average, clients have a significant growth in their billing revenue after onboarding with Medeye LLC. Employ a dedicated and flexible team of billing experts to help you improve cash flow to foster patient relationships.